Sydnordisk Akademi for Donaldisme
The Annual Ludwig von Drake Award 200
7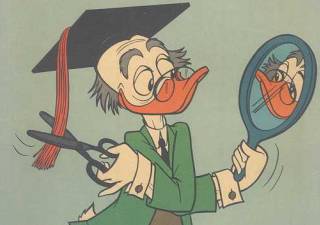 Ved Det 7. Donaldistiske Seminar afholdt i forbindelse med Akademiets julefrokost den 17. december 2007 blev de nominerede til den fjerde uddeling af The Annual Ludwig von Drake Award præsenteret for den lærde forsamling i henhold til de allerede afgivne, skriftlige indstillinger. Herefter lod Akademiets rektor afsløre dette års dommerkomité, der bestod af følgende velanskrevne forskere:
Politisk kommentator, and.scient.pol. P. Duckow
Professor, dr. don. J. Hop van de Haavelouw
VVS-lærling, evig.stud. don. P. Damgaard
Efter at have fået forelagt præsentationerne og indstillernes begrundelser kunne dommerkomitéen (efter længere tids votering i tæt cigar- og piberøg) i enstemmighed udpege dette års vindere af ALDA:
Nadia Claudi og Politiken
Sydnordisk Akademi for Donaldisme vil hermed ønske journalist Nadia Claudi og dagbladet Politiken hjerteligt tillykke med den delte hædersbevisning, som vi håber de vil modtage i samme ånd, som den er givet, nemlig som en velfortjent, faglig anerkendelse af deres arbejde for udbredelsen af den akademiske donaldisme. To diplomer er afsendt til henholdsvis fr. Claudi og Bibliopaten på vegne af Politiken.
Nedenfor bringes den oprindelige begrundelse for indstillingen indgivet af dr.don. G. Jacobini, professor ved Sydnordisk Akademi for Donaldisme:
Was Donald Duck close to commit suicide? Hardly had the hangovers from New Years Eve begun to settle, before this head- and heartbreaking question was asked. The basis for this frightening thought was the already well-known story by Sune Troelstrup & Rodriques, duckumented in Anders And & Co. no. 52/2006, in which a deeply depressed Donald walks out on Duckburg Bridge, and with tears in his eyes mumbles that it would be better for everyone, if he just disappeared, as he grips the fence of the bridge and... and what?

Is Donald about to climb the fence and jump into certain death in the ice-cold river? We will never know, as he is stopped by an angel (or perhaps a sea gull in a nightshirt, as suggested by dr. Gjøgsig). However that may be, the matter is certainly serious and deserves donaldistic-scholarly consideration. But just like in 2005, when the serious question of bird flu in Duckburg was awaiting Donaldist attention, for some strange reason it was not to be within the traditional circles of Donaldism that the question was raised. No, once again it was an awake and concerned journalist, a fine representative of the free press, who not only made the question explicit in a national newspaper (Politiken 05.01.2007), but also performed professional journalism by directing the sensitive question to both an editor of the media company in charge of distributing donaldistic material in Scandinavia, as well as a high-ranking, neutral expert, which - to little surprise - led to somewhat different answers. Afterwards, the article initiated hot debates on the Donaldist forum of DDF(R). Even here at the Academy, Dr. Gjøgsig has used the perhaps suicidal duckumentation as a case-story in his class for the newly started students. Most likely, none of this would have happened, if it had not been for an alert journalist from outside the usual spheres of Donaldism.
The whole case becomes even more extraordinary by the fact, that the journalist in question is indeed a woman: Ms. Nadia Claudi! Please, do not misunderstand me, I am not in any way expressing any male-chauvinistic surprise that a woman has been able to make this vigilant observation, while all the men seem fast asleep, not at all! I am only pointing to the fact that our science otherwise show a sad lack of female participation. Therefore, I find it so much more worth applauding, when the academic-donaldistic wakeup-call is given by a woman. Furthermore, I shall not deny that the Latin indications of Ms. Claudi's name fill my Italian heart with great national pride.
And so, I hereby want to recommend Ms. Nadia Claudi of Politiken for the Annual Ludwig von Drake Award 2007, as I believe, she perfectly fits the qualification criteria and ideology of the award, by raising focus on an important academic-donaldistic matter within the South-Nordic area, but outside the usual circles of the school. In addition, it is only in high time that a woman is nominated for the award. I would, however, also like to recommend the newspaper of Politiken for a joined nomination with Ms. Claudi, as Politiken within the last couple of years has proven itself as the absolutely leading donaldistic-focused newspaper in Denmark. As you will remember, last Spring saw a series of donaldistic debate in the column of 'Bibliopaten', and by taking up the question of Anatide-suicidal thoughts, Politiken has shown a very sympathetic and welcome continuance of this initiative, which sets high hopes for the future. Such an initiative deserves to be rewarded. And what reward could be better than the ALDA?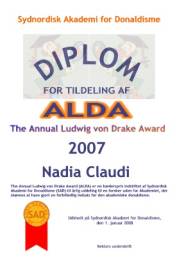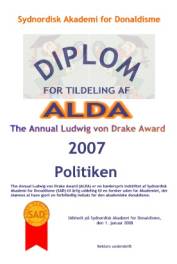 Som det vil være Akademiets faste studerende og forskere bekendt, så inspirerede fr. Claudis dybdeborende journalistik efterfølgende også Akademiets egen chefpsykolog, dr.don.psych. Petra Grozvits, til en nærmere undersøgelse af Joakim von Ands mulige selvmordstendenser. Artiklen skabte således ikke blot berettiget opmærksomhed på dette alvorlige problem uden for donaldismens sædvanlige kredse, men har også været med til at sætte den akademiske donaldismes etablerede kræfter i sving - hvilket efterhånden bestemt også er en anerkendelse værd...
Kære Sydnordisk Akademi for Donaldisme

Jeg modtog i dag en stor hvid kuvert (der har ligget og ventet på mig) og må sige, at jeg blev glædeligt overrasket, da den viste sig at indeholde et diplom for tildelingen af The Annual Ludwig von Drake Award til mig og Politiken. Tusind tak for prisen, jeg er meget beæret! Og tak til dr. don G. Jacobini for indstillingen!

Jeg synes selv, at artiklen i sin tid var et spændende emne at beskæftige sig med, da Anders And og Co. kan stå som en fælles reference for os mennesker, uanset alder, køn og nationalitet. Derfor er det interessant at undersøge, hvor meget af vores egen virkelighed, der afspejler sig i Andeby. Og hvordan normerne i Andeby har udviklet sig gennem tiden, og om de normer har rykket sig af den ene eller anden årsag. Nogle vil eksempelvis mene, at der skal være plads til nedtrykte tanker af den værste skuffe - og måske ærgrer disse nogle sig over, at den politiske korrekthed har vundet indpas.

Det var derfor også spændende at læse, hvad jeres chefpsykolog Petra Grozvits havde fundet frem til - tænk, at der alligevel har været så mange knuste hjerter (og hoveder) i Andeby.

Jeg takker endnu en gang og ønsker jer al held og lykke i fremtiden med udbredelsen af den akademiske donaldisme.


De bedste (og vel også donaldistiske) hilsner
Nadia Claudi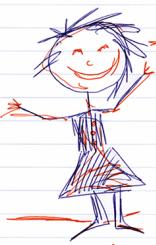 Akademiet har sakset dette smukke og kreative selvportræt af Fr. Nadia Claudi fra hendes egen hjemmeside. Efter sammenligning med mere traditionelle billedgengivelser af den glade vinder kan komitéen fastslå, at smilet i det mindste ligner meget godt, og utvivlsomt ganske godt illustrerer hendes glæde over at modtage ALDA 2007.
Sydnordisk Akademi for Donaldisme henleder opmærksomheden på, at rettighederne til (næsten) alle de anvendte billeder på Akademiets sider tilhører ©Disney, der i Danmark er repræsenteret ved Egmont Serieforlaget A/S. Billedmaterialet må ikke anvendes i erhvervsmæssigt øjemed.